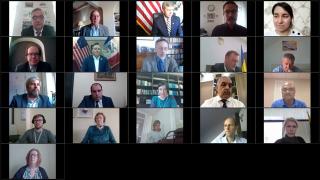 We are gladly announcing our Third Online Symposium on Elections in Times of Epidemic, a closing event before the Summer reaches us with all its felicity. The Symposium gives an opportunity to have a follow-up on the very recent Polish and Serbian elections, which have been discussed at the earlier events. Moreover, as an outlook to the theme of our annual conference, communications in the pandemic will be also discussed. Furthermore, to broaden our perspective, we step out of Europe to examine the Mexican situation.
Hereby, the ACEEEO invites all the interested to attend the Online Symposium on 2 July 2020, 14.00 (CET). The Online Symposium is freely accessible, however, prior registration is needed. If you wish to participate, please send an e-mail to aceeeo@aceeeo.org.
- DRAFT AGENDA –
14.00 – 14.10 – Greetings from Zsolt Szolnoki, Secretary General, ACEEEO
14.10 – 14.20 – Follow-up on the Polish elections taking place 28 June 2020
14.20 – 14.30 – Follow-up on the Serbian elections taking place 21 June 2020
14.40 – 15.00 – Outlook to our conference theme: Communications in times of epidemic
15.00 – 15.20 – Stepping out of Europe – the Mexican experience
15.20 – 15.30 – Debate and closing remarks
For further details and the summary please visit the dedicated ACEEEO page.
English