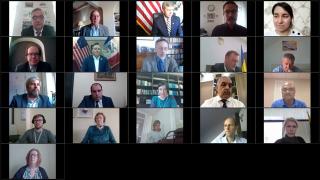 The ACEEEO organizes the Third Online Symposium on Elections in Times of Epidemic on 2 July 2020, 14.00 (CET).
Since the COVID-19 pandemic went worldwide, the ACEEEO community has been heavily affected by the virus. Certain countries decided to postpone elections, others introduced special measures in the conduct of elections. In a unique situation like this, the constant dialogue among election officials is more important than ever. Therefore, ACEEEO facilitated meaningful discussion by having organized two online symposiums that dealt with the topic from a general angle on the one side, and from a country specific perspective from the other side, tackling the experiences from Poland, South Korea, the U.S., Croatia, Serbia and Ukraine.
We are gladly announcing our Third Online Symposium on Elections in Times of Epidemic, a closing event before the Summer reaches us with all its felicity. The Symposium gives an opportunity to have a follow-up on the very recent Polish and Serbian elections, which have been discussed at the earlier events. Moreover, as an outlook to the theme of our annual conference, communications in the pandemic will be also discussed. Furthermore, to broaden our perspective, we step out of Europe to examine the Mexican situation.
The ACEEEO invites all the interested to attend the Online Symposium on 2 July 2020, 14.00 (CET). The Symposium is freely accessible, however, prior registration is needed. If you wish to participate, please send an e-mail to aceeeo@aceeeo.org.
- DRAFT AGENDA –
14.00 – 14.10 – Greetings from Zsolt Szolnoki, Secretary General, ACEEEO
14.10 – 14.20 – Follow-up on the Polish elections taking place 28 June 2020
Speaker:
Krzysztof Lorentz, Head of the Department, National Electoral Office of Poland
14.20 – 14.30 – Follow-up on the Serbian elections taking place 21 June 2020
Speaker:
Vladimir Dimitrijević, President,The Republic Electoral Commission of Serbia (TBC)
14.40 – 15.00 – Outlook to our conference theme: Communications in times of epidemic
Speaker:
Ingrid Bicu, National Expert at International IDEA
15.00 – 15.20 – Elections and democracy in the epidemic - The Latin-American experience
Speaker:
Manuel Carrillo Poblano, Head of the International Affairs Unit, National Electoral Institute of Mexico (INE)
15.20 – 15.30 – Debate and closing remarks
ACEEEO event
Election-related event