Date of the event:
Wednesday, September 9, 2015
to
Friday, September 11, 2015
The 24th Annual conference and the General Assembly Meeting of the ACEEEO had been organized in Chisinau, the Republic of Moldova on 9-11 September 2015. The event was hosted by the Central Election Commission of the Republic of Moldova.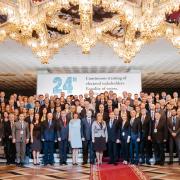 The conference had two main topics. 'Continuous training of electoral stakeholders' emphasised an issue that is permanently on the agenda of electoral management bodies, whereas the topic of 'Equality of voters, equality of votes' focused on an equally important matter related also to constitutional law. According to our tradition, in the prospect of our annual conference the possibilities were suggested for regional and cross-regional consultations, networking as well as for learning on recent developments in election technology.
The discussion of 150 electoral professionals from 37 countries including representatives of electoral management bodies, professionals of international organizations and academics who acquainted with their experiences both from a theoretical and practical point of view.
ACEEEO event
Annual conferences