1. Conference news
28th Annual Conference and General Assembly meeting of the ACEEEO
24-26 September 2019, Ljubljana, Slovenia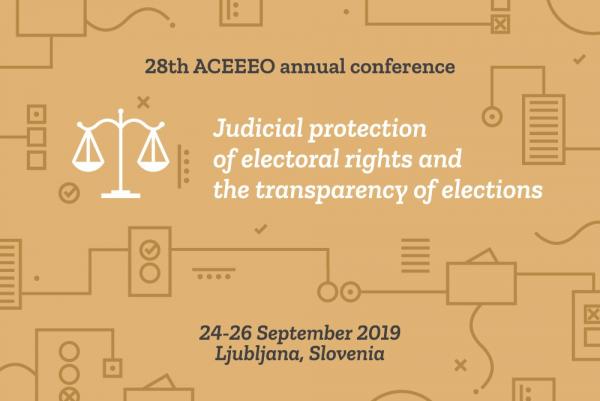 By now, we updated some information on our website. Please find below the most important information.
Some excellent speakers have already accepted our invitation, so keep updated as we are continuously updating the agenda including new participants from all around the world. The structure remained unchanged; participants of the Conference will be able to attend Plenary sessions, Workshops and Roundtables in connection with our two main topics, judicial protections of electoral rights and transparency of elections.
Please find a more detailed description of the topics in our concept paper, which is also available on our website.
Regarding that we have just had the European Parliament elections in nine of our member countries, we dedicate the last professional panel on day 3 to the lesson learned by our members from these elections.
The Conference now has three official hotels at its disposal and additionally, we prepared offers for few alternative hotels, from where transportation will be organized to the venue. Check out the hotels at: aceeeo.eventhub.si/ In order to have the selected room for discounted price, please book your accommodation by the 30 July.
Please also check out the section 'Venue' where you can find helpful advices about Slovenia, Ljubljana and Bled, and also the section 'Organizers' with essential information on the State Election Commission of Slovenia.
Finally, we are happy to announce that the 14th volume of our journal, Elections in Europe will be published this year. The topic is the same as of the conference: Judicial Protection of Electoral Rights and the Transparency of Elections. We call for papers in these topics with the maximum length of 2000 words. If you wish to contribute to the volume, please write to aceeeo@aceeeo.org by 15 July, with a short (maximum 250-word-long abstract). The final deadline for the complete papers is 31 July.
2. Upcoming elections in the ACEEEO region
| | | |
| --- | --- | --- |
| 21 July 2019 | Ukraine | Early parliamentary elections |
| November 2019 | Romania | Presidential elections |
| November 2019 | Poland | Parliamentary elections |
| 2019 | Croatia | Presidential election |