1. News and upcoming events
30th Anniversary Conference and General Assembly of the ACEEEO
28-30 September 2021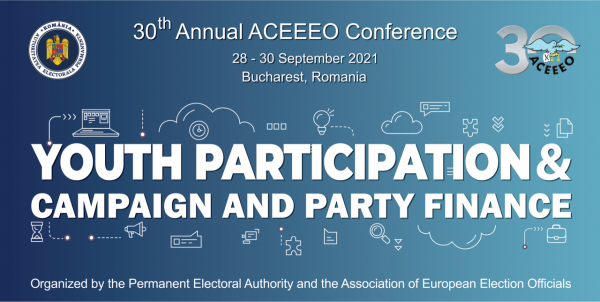 There is only a month left until the 30th Annual Conference and General Assembly of the ACEEEO starts in Bucharest, Romania. The Permanent Electoral Authority of Romania and the ACEEEO Secretariat are preparing a hybrid conference where the organizers offer the opportunity of a traditional physical gathering, but they will also provide all necessary online means for those who are unable to travel by that time.
The Bucharest Conference will be centered around two themes: Youth Participation and Campaign and Party Finance, where both theoretical questions and practical aspects will be discussed with the active participation of Electoral Management Bodies' (EMBs) leading experts, officers of international organizations, researchers, as well as the youth itself. For further information on the background of the topics please read the Concept Paper.
Updated Agenda: The recently updated Draft Agenda of the conference features high-level speakers form the EMBs of Albania, Croatia, Lithuania, Romania, Mexico and Tunisia, as well as experts from multiple International and Regional Organizations and companies, dealing with the technical support of elections. Please find further details at the conference webpage.
Practical Information: Safety of our participants during the continued coronavirus pandemic is a top priority to the organizers of the 30th ACEEEO conference. Therefore, we intend to provide the most up-to-date information about Covid travel rules, restrictions and measures in place in Romania to ease the planning of the participation at the event. Please learn about the current travelling rules at the conference webpage.
Launch of Registration: We are happy to announce that the registration to the event is finally open. Please find the registration form on the bottom of the conference webpage or directly at the registration page.
Call for articles in 'Elections in Europe': We are grateful to our writers who have already sent us fascinating articles to be published in the 16th volume of Elections in Europe. The two topics of the issue are in line with the topics of the Annual Conference: 'Youth Participation' and 'Campaign and Party Finance'. In order to give the chance to finish the contributions of our experts we decided to extend the deadline for submission until 5 September. Please submit your articles with the length of 2000-2500 words to the aceeeo@aceeeo.org, together with the photo of the author and 3-5 images for illustration.
For further information please do not forget to read our upcoming newsletters and frequently visit the Facebook page of the ACEEEO.
2. Elections in the region
| | | |
| --- | --- | --- |
| Date | Country | Type of election |
| 19 September | Russian Federation | Parliamentary |
| 2 October | Georgia | Local |
| 17 October | North Macedonia | Local |
| 2021 | Bulgaria | Presidential |