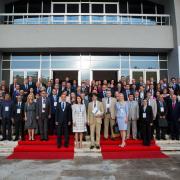 The 25th Annual Conference of the Association of European Election Officials (ACEEEO) had been held on 21-23 September, in Tirana, Albania. The Conference, organized together with the Central Election Commission of Albania, gathered about 150 participants from 40 countries. The topic of this year conference was 'Development of Electoral Systems and Processes in the last 25 years'.
The Association was founded in Budapest, Hungary, with the collaboration of IFES in 1991. Seven former socialist countries were present on the first symposium where these countries (Albania, Bulgaria, Czechoslovakia, Hungary, Poland, Romania and Yugoslavia) decided to set up the ACEEEO. Almost 25 years have passed since then, and by 2016, the ACEEEO counts 25 institutional members from the European region.
During the opening ceremony Lefterije Luzi, Chairperson of the Central Election Commission of Albania and President of the ACEEEO; His Excellency Ilir Meta, Speaker of the Assembly of Albania; Brian Williams, UN resident Coordinator and UNDP resident Representative; Robert Wilton, Acting Head of OSCE Presence in Albania; William J. Hybl, Member of the Board of Directors of the IFES; and Zsolt Szolnoki, Secretary General of the ACEEEO delivered speeches.
On the second day of the conference, it hosted at the 'World Leaders Summit' representatives of the most important international partner organizations (IFES, UNDP, International IDEA, UNEAD, ODHIR, Council of Europe, Venice Commission, IPA CIS, A-WEB) to make them discuss the developments in the field of the elections in the past 25 years.
By the occasion of the Jubilee a CEO Summit of Election-related Companies was also included into the agenda. The topic of the discussion was 'Development of the Election Technology in the last 25 years'. The summit of the CEOs on the Day 2 of the conference provided an opportunity to get known the companies' experiences and their point of view about the changes in electoral technology since 1991. The summit had been moderated by Paul DeGregorio, Honorary Member of the ACEEEO.
During the conference, the Association expressed its gratitude by giving honorary medals to experts who have been working with it for 15, 20, or 25 years.
To the celebration of this significant anniversary, a book entitled 'Development of the Election Systems in Central and Eastern Europe since 1991' was published by the ACEEEO. The anniversary gave an opportunity to have an overview about the changes of electoral systems and processes in the last 25 years, to present the main tendencies, best practices and problems and the way electoral management bodies dealt with them.
Besides the election officials and commissioners from the ACEEEO's members, the international partner organizations, members of the Central Election Commission and experts from Albania contributed to the conference.
Special place at the Conference was dedicated to the exhibition and presentation of election equipment vendors.
English