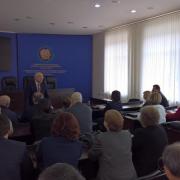 2 April 2017, Yerevan, Armenia
On Sunday, 2 April voters of the Republic of Armenia cast their votes for the members of the National Assembly for the first time since a new constitution was adopted in 2015 that changed Armenia's government to a parliamentary system.
The Central Election Commission organized a 2-day International Election Visitor Program for their foreign colleagues.
On Saturday the Chairman of the CEC, Mr. Tigran Mukuchyan met the invited guests in the building of the CEC and explained the novelty of the elections.
During the election day visitors had the possibility to observe the opening of the polling stations, visited several polling stations in Yerevan and observed the closing of the stations as well as the counting procedures.
Representatives of several ACEEEO Members from Belarus, Croatia, Georgia, Kazakhstan, Kyrgyzstan, Latvia, Lithuania, Republic of Moldova, the Russian Federation and Ukraine attended the organized program.
English