3 February 2022, 14.00-17.00 CET – Online event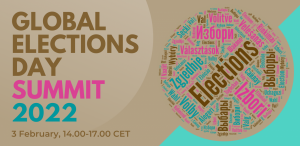 Every year, on the first Thursday of February we celebrate our most important democratic institution – elections. Global Elections Day (GED) was initiated by the GEO/ACEEEO conference in 2005, and we are proud that in the past decades it evolved into a tradition, a real celebration organized in democracies throughout the ACEEEO region by EMBs and other electoral stakeholders.
This year, however, we plan to take a step further. It is our aim to make GED truly global, by involving election officials from all around the world. To this end, the GED Summit 2022 is organized by the ACEEEO on 3 February.
The goal of the summit is:
to celebrate elections, a cornerstone of democracy;
to acknowledge election officials, working relentlessly as guards of the democracy;
to demonstrate the unity of the election officials from all over the globe;
to show the diversity of elections;
to support the exchange of best practices among the election management bodies; and
to provide guidance to the voters.
The event will take place online, with the participation of EMBs and international organizations and other electoral stakeholders from all around the globe. Each speaker will be allotted a maximum of 3-4 minutes to share ideas.
During the intervention you may:
address a message to the election community, underlining your commitment to values related to elections;
present a best practice from your election system;
address a challenge you face in your country; or
to make any other short statement related to elections.
Proposed schedule:
14.00-14.10 - Welcome and introduction (ACEEEO)
14.10-15.00 - Asia and Australia
15.00-16.00 - Europe and Africa
16.00-17.00 - America
17.00 - End of the summit
If you wish to participate either as a speaker or as audience, please send an e-mail to aceeeo@aceeeo.org, by 24 January.
English