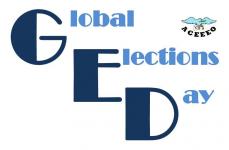 On the 4 February 2021 Electoral Management Bodies all over the world will celebrate the Global Elections Day for the 16th time.
On the occasion of this celebration the Electoral Management Bodies open the doors of their offices, emphasizing once again the transparency in their work. They invite young voters, the media and other key stakeholders to present their achievements in organization of the electoral process, but at the same time they initiate conversation about the improvement of the processes. As the initiators of the GED underlined back in 2005, the main goals of this day are:
to confirm our belief in the irreversibility of democratic processes;
to inform the public about new achievements and challenges related to various types of voting systems;
to draw the attention of parliaments, governments, politicians and world leaders on the importance of their leadership role that they play in promoting a culture of democracy and high levels of voter participation;
to influence first-time voters and young voters to commit themselves to democratic values.
Therefore, we encourage all our Members and Partners to join the celebration and send us your short reports and photos about the activities. For further reference please visit: https://aceeeo.org/en/projects/global-elections-day.
English