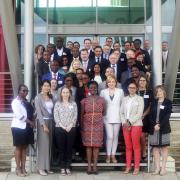 18-21 October 2016, Johannesburg, South Africa
The Electoral Institute for Sustainable Democracy in Africa (EISA) organized the 11th Implementation Meeting of the Declaration of Principles for International Elections Observation in Johannesburg, South Africa. The ACEEEO Secretariat was represented by Stepan Ahiy, program manager.
The 11th annual meeting's priority thematic issues were:
The growing trend of entrenched incumbency;
Support to civil society groups working in closed societies;
Conflict and electoral violence;
Disability and other inclusivity issues;
Money in politics and abuse of state resources.
The meeting was followed by the EISA 20th Anniversary Symposium on 20-21 October 2016 with the topic 'Current Democratic Realities in Africa: Where are We Headed Beyond the Vote'.
English